International Data Corporation, better known as IDC, has published a MarketScape report titled Worldwide SaaS and Cloud-Enabled Operational ERP Applications Vendor Assessment. As one of the world's leading providers of market intelligence and advisory services in the technology industry, IDC has the experience and credibility to provide balanced and informative assessments of the various companies competing in the Enterprise Resource Planning (ERP) space.
We are an Acumatica partner, so we will emphasize IDC's views on Acumatica. The report, however, is a great guide to the many choices ERP buyers have in the current market. It gives detailed analysis of 14 ERP software companies: Oracle, SAP, IFS, Oracle NetSuite, Microsoft, Infor, Plex Systems, Syspro, Ramco Systems, Epicor, Acumatica, Priority Software and Sage.
Acumatica on the MarketScape
IDC's analyst methodology leads to a MarketSpace graphical chart. The chart plots the relative position of each vendor according to a matrix measuring capabilities versus strategies. The upper right corner of the chart represents the market Leaders, who have the greatest capabilities and most sophisticated strategies, according to IDC. These are followed by Major Players, Contenders and Participants.
SAP and Oracle occupy the Leader segment of the MarketSpace chart. IDC places Acumatica in the Major Players category. It is relatively low on the capabilities scale, but ranks second highest on the strategies axis. This positioning reflects well on Acumatica. The company is strategically advanced and evolving quickly. It does not try to be all things to all customers, so while other vendors are theoretically ahead of it in terms of feature depth, this does not reflect a lack of competitiveness for Acumatica. The value of the IDC methodology is on how it lets the buyer figure out the optimal ERP solution.
IDC's advice for ERP buyers
IDC frames their analysis in terms of digital transformation (DX). They are looking for ERP vendors that can support DX through capabilities for big data, third party integration, mobility and Internet of Things (IoT) support. Even their addition of the word "operational" to the category, calling it "Operational ERP," is revealing. Companies are using ERP for a more complete set of operational workloads than before. Integration and flexibility are givens.
The report encourages prospective ERP buyers to pay attention to a vendor's ability to support data visualization and reporting. They emphasize key metrics, such as those used to track manufacturing productivity. IDC also favors ERP solutions that automate previously manual processes, as this enables agility and DX. On a related note, they emphasize the importance of software robots and machine learning as drivers of DX.
Acumatica Assessment
The MarketScape acknowledges Acumatica for being a modern platform with a multitenant architecture and flexible deployment options, which include public cloud, private cloud and on-premises. It also highlights Acumatica's consumption-based licensing model, which enables clients to achieve rapid return on investment (ROI). According to IDC, the ideal Acumatica customer is a growing small-to-midsized company, with between $10 and $200 million in revenue.
To learn more about Acumatica and how it can help you with your business, contact us for a demo and free consultation.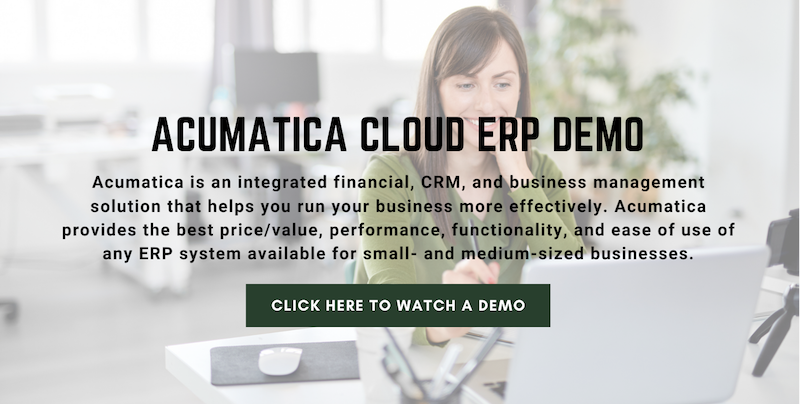 Additional Resources
Benefits and Cost Savings of Cloud ERP Adoption
How Much Does ERP Software Cost?