Though the idea was not on anyone's radar, the distribution industry has become an ironic, surprise beneficiary of the ongoing COVID-19 pandemic. This is based not only on the necessity of keeping things moving, but also thanks to the evolution and advances of cloud-based distribution technology. The distribution industry is flourishing—and growing more competitive than ever—despite the economic downturn. This is one striking trend we're seeing today. Fortunately, solutions like Acumatica Cloud ERP are available to support purchasing departments and the distributors who serve them.
Here are some of the other notable trends in distribution right now:
The acceleration of distributor speed and agility
In the past, solid relationships with suppliers were enough. In today's supply chains, "I want it yesterday" has become, "we will get it to you today or in one hour." This expectation of immediate service, no matter what, has disrupted the balance of the supply chain. Customers do not seem to care much any more about differentiation, only whether you can be first to the door and keep inventory at cash flow optimized levels.
Learn more in 5 Tips to Streamline Your Supply Chain.
The fewer humans involved, the better
Automation is enabling distributors, as well as the procurement departments they interact with, to reduce manual processes and personnel. This cuts down on overhead and errors, but the trend is also enabling the more highly automated distributors to be more competitive on price. Their operating costs are lower.
Competition from E-commerce and direct to consumer (D2C) models
Traditional wholesale distribution businesses are finding the lines between themselves and their suppliers blurring on the customer side. For example, some manufacturers now let their suppliers set up actual vending machines for parts and tools on the shop floor. This way, employees can "buy" the materials they need to do their work directly from suppliers.
Working smarter by re-training workers in new technologies
Some distribution businesses are having their employees master new skills in artificial intelligence (AI), automation and robotics. This is accompanied by growth in strategic, global partnerships and acquisitions that increase coverage. The process creates a streamlined system where companies themselves control the product and all aspects of supply, manufacturing and distribution without subcontractors. They no longer have to depend on other companies to fulfill crucial aspects of their products in order to get them out the door. Software, especially cloud ERP, is a critical enabler of such strategies.
The distribution landscape is always evolving, and 2021 is already looking to be a year of dynamic change. As competition heats up and traditional roles morph into new forms, the pressure is on to cut costs and increase agility. It's imperative that distributors take a proactive stance on matters and not let rapidly shifting circumstances in the market force them to adjust.
Technology is not the only success factor in this struggle, but it is one of the most significant elements of strategic adaptation. Cloud ERP empowers decisive distribution industry leaders who are engaged in the change cycle and committed to growing their businesses.
Stay Ahead of Industry Trends With Acumatica Distribution Edition
Acumatica Distribution Management is cloud ERP software that helps companies manage their supply chain and logistics activities, including warehouse management, inventory management, and order management (sales and purchase orders). It integrates these activities with the company's financials and sales. Wholesale distribution software can help companies improve customer satisfaction, reduce order times, and control costs across the entire supply and distribution chain.
We can help. If you want to discuss how Cloud ERP can help you prepare the present and future challenges in distribution, let's arrange a time to talk or watch our Acumatica Distribution Demo.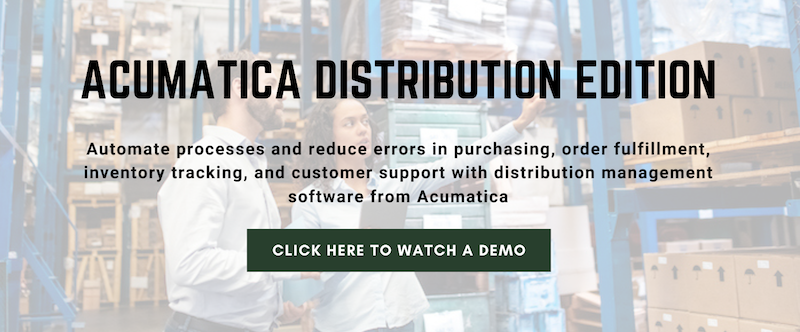 Additional Distribution Resources
How Distributors Can Simplify Item Management with Acumatica
5 Benefits of Inventory Management in the Cloud