Acumatica Distribution Edition can be a key growth factor for distribution businesses. The cloud Enterprise Resource Planning (ERP) software offers superior functional benefits as well as flexibility—enabling every aspect of the distribution process to become more agile. With that in mind, here are five ways distributors can grow through the use of cloud ERP software.
1) Make Better Decisions with Real Time Data
Cloud ERP for distribution puts real-time data into the hands of your operational managers and strategic decision makers. This capability makes it easier for you to manage multiple warehouses, to name one of many potentialities. Distribution businesses can work smarter, with the ability to scan and track warehouse items, understanding the big picture in real time. The resulting streamlined business processes help you cut operational costs while improving customer satisfaction. Acumatica keeps data secure with access controls and user permissions.
2) Get More Profitable with Better Supply Chain Management
With Acumatica Distribution Edition, you can improve your supply chain management and optimize inventory levels. This is an indirect, but major driver of growth. By not tying up cash in inventory, you have more capital to invest in sales and marketing. Distribution software like Acumatica enables you to increase inventory turns and make replenishment more efficient. This minimizes carrying costs while also helping you avoid stock-outs that translate into lost sales.
3) Streamline Warehouse Operations
Acumatica ERP cloud software for wholesale businesses makes it possible to manage the entire business from a single application. Acumatica also provides this capability on any device from any location. In addition, the software facilitates streamlined warehouse operations with technologies like automated barcoding transactions as well as wave and batch picking. The toolset takes you away from slow, error-prone manual entries. As with inventory optimization, by cutting warehouse operating costs, you get more funds available to invest in growth.
4) Improve the Customer Experience
Better distribution management software leads to better customer experiences. This assumes that people use the toolset the right way, of course, but with Acumatica the functionality is there to delight your customers. This outcome may arise out of capabilities like online self-service and embedded Customer Relationship Management (CRM). Access to real time order data, flexible order management and automated warehouse transactions empower customer support people to deliver outstanding customer service. There are fewer "Let me get back to you" moments and more of "I know what's happening with your order, so let me help you."
5) Automate the Business
Automation of distribution business processes makes your overall operation more efficient. It helps your people be more productive and engaged with customers. With fewer routine, repetitive manual tasks to get through, employees can focus on expanding the value of customer relationships. Acumatica puts Artificial Intelligence (AI) and Machine Learning (ML) to work, along with Visual Process Workflows to get your business to this desirable state of operations.
Learn More Ways to Grow in Our Distribution eBook
Customers don't care whether they're buying from you, from one of your global competitors, or directly from the manufacturer. All that matters to them is that they get excellent service at the right price. So if you are going to differentiate your business by providing a better customer experience, you'll need technology supporting your strategy.
Acumatica delivers wholesale distribution ERP software designed to help you compete in today's digital economy. Read our eBook, 7 Ways Distributors Grow With Acumatica Cloud ERP, to find out how modern technology can help you:
Generate leads and increase sales.
Increase turns and minimize carrying costs.
Automate transactions to improve data accuracy and reduce manual entry.
Boost customer satisfaction with self-service tools.
Manage your entire business from a single application, anytime, anywhere.
Realizing the full growth benefits of cloud ERP software requires analysis, planning and strong execution. We can help. We have worked with many distribution businesses on the implementation of cloud ERP software. To learn more, watch our Acumatica Distribution Edition demo with or contact us.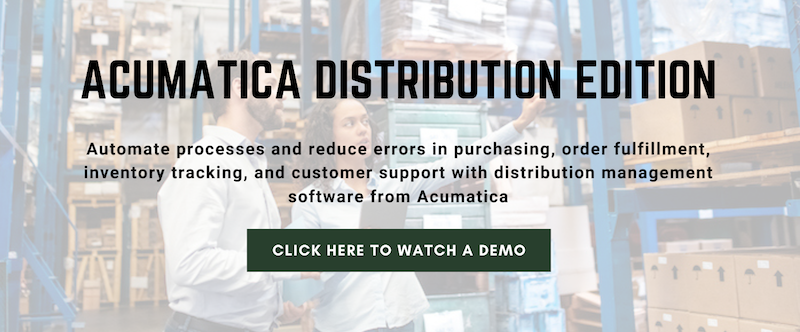 Additional Distribution Resources
The Warehouse of the Future: 6 Features You Need for Success
How Distributors Can Choose the Best ERP Software