Distribution involves orchestrating many different workflows and tasks. Nothing stands still for long, especially in the warehouse. Goods come and go. Pickers put together orders and ship them out. It can be a complicated mess, even at the best of times. It need not be this way, however.
Distributors are increasingly turning to cloud ERP software to keep the situation under control. With Acumatica Distribution Edition, for example, it is possible to create the warehouse of the future: a place where employees benefit from automated workflows and centralized information. A modern warehouse might involve managing multiple warehouses, along with field technicians, logistics, accounting, customer engagement and even business development. With that in mind, here are six features you must have if you want your warehouse of the future to succeed.
1) A Streamlined Warehouse
Your warehouse needs to be flexible and streamlined to keep your business competitive. Using cloud ERP, hybrid cloud or on-premises connectivity, you can enable access for remote and mobile devices, anywhere at any time. Based on this connectivity, you can realize the attributes of a streamlined warehouse, including:
Real-time inventory updates
Customizable workflows
Flexible packaging definitions, and
Comprehensive unit of measure conversions
2) Inventory Management
Agile systems for inventory management are non-negotiable, as losing or misplacing inventory and tracking data translates to losing money. In the warehouse of the future, your ERP system will "think for you" by keeping track of crucial aspects of warehouse inventory such as accuracy, coding, inventory cycle counting, kitting, and kitting disassembly, expiration, stock rotation, slotting and matrix items. The best ERP cloud platforms will track forecasts and provide creation tools to customize distribution depending on industry requirements.
3) Order Management
The most up-to-date sales order ERP software will make your order management process stand out. Achieving this goal might mean integrating with other software systems, such as retail Point of Sale (PoS), e-commerce and Electronic Data Interchange (EDI). Acumatica provides WMS order management with a sales order module for existing ERP applications.
An ideal system for order management efficiently handles:
Inventory allocation
Item substitutions
Back orders
Item substitutions
Order allocation
Drop- shipments from vendors to customers
4) Inventory Transactions
Inventory management should easily integrate with shipping and sales orders, giving you the option to prioritize inventory by zone, wave, batch and perishable/expiration. It will also suggest packing options. Transactions managed through cloud ERP give everyone involved real-time data, removing the possibility of human error. All relevant departments will have access to correct information regarding receipts, routes, fleet management, direct shipping transfers, kitting and kitting disassembly, along with options for truckload (TL) or less-than-truckload (LTL) carriers.
5) Automation
Acumatica cloud ERP software empowers modern warehouses to automate all inventories. The platform supports bar code scanning and Radio Frequency Identification (RFID). Warehouses that have specific needs can customize their systems to include automated replenishment, pallet and container license plating, labeling and robotics.
6) Compliance and Reporting
Following the rules, and getting it right the first time most definitely applies to compliance. This is where differentiation can strengthen customer relationships as they find that there are "never any issues or problems" with your company. You can stand out with your compliance and reporting. Acumatica realizes this requirement by managing and tracking QA, lot and serial numbers, inventory valuation, financial reporting industry and customer labeling requirements. It can also handle government or industry compliance regulations.
Interested in learning more? Check out Part 2 of this post – The Warehouse of the Future (Part II): Seven Emerging Technologies.
Planning a Modern Warehouse? Get the Playbook
Building a modern warehouse is not just a way to get ahead – it is now a matter of survival. So if you are still running an entry-level accounting or legacy distribution ERP system, it is time to upgrade. Get an overview of what to look for in your new distribution ERP system in our playbook: Prepare for the Warehouse of the Future With Acumatica Distribution Edition.
To learn more about modernizing your warehouse operations, contact us or watch a demo of Acumatica Distribution Edition and its warehouse management capabilities.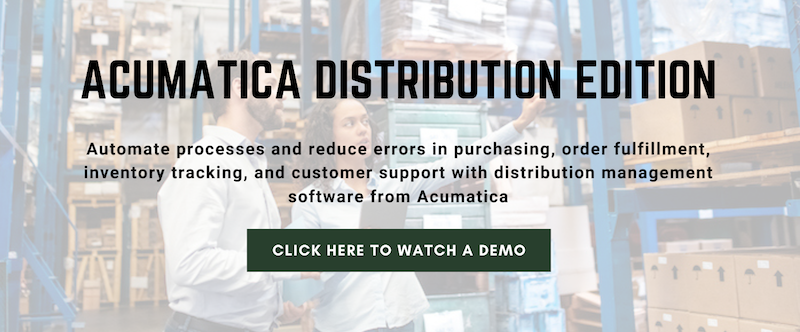 Additional Distribution Resources
How Distributors Can Choose the Best ERP Software
How Distributors Can Simplify Item Management with Acumatica