This is a follow up to our previous article, The Warehouse of the Future: 6 Features You Need for Success. While that article explored the high-level concepts for warehouse modernization, covering factors like inventory management automation and reporting, here we look at the specific technologies that will put an end to manual processes and deficient warehouse management software. These technologies are available through modern Enterprise Resource Planning (ERP) solutions like Acumatica Cloud ERP and its Distribution Edition.
1) Barcodes and RFID Tags
A warehouse absolutely needs barcodes and perhaps Radio Frequency Identification (RFID) to speed up the intake of goods, order picking and order tracking. They should be based on the standardized GS1 Global Trade Item Number barcode system. Barcodes can be read through multiple mobile devices and scanners, all connected to cloud ERP software. The same data can be captured on RFID tags with zero human interaction or intervention. Radio receivers capture product and container tags that are transmitting item and location information directly to the software.
2) OCR Scanning
Even though paper-based data capture exposes warehouses and inventory to errors, many companies are yet to digitize the process. Yes, some warehouse management tasks will need to remain paper-based for a while, because they are not easy to automate. The rest should convert to data capture based on Optical Character Recognition (OCR). With OCR, software can scan printed documents, such as packing slips and bills of lading, and automatically parse and import the data they contain. OCR is an affordable process and compatible with most ERP systems. Complete documents can be directly saved in a cloud ERP or Warehouse Management Software (WMS) database.
3) Voice Recognition
Voice recognition is becoming a preferred hands-free option for automated warehouse data capture. Voice Directed Warehousing (VDW) is the newest, popular option available. VDW is a bit complex to set up, but it puts companies at an advantage over its competitors and is compatible with wearable technologies that boost productivity. VDW can direct "put-away" and hands-free picking and make inventory transactions easier, allowing agile packing and shipping. VDW also enhances physical inventory cycle counts and can "talk to" virtual assistants and chatbots.
4) Artificial Intelligence (AI) and Machine Learning (ML)
Data capture and warehouse management are now much more streamlined thanks to artificial intelligence (AI) and machine learning (ML). For example, an AI-powered warehouse system can compare manually entered quantities in a receipt of shipment against the quantity listed on the originating purchase order. ML tools can "think" for warehouse employees, for instance by identifying critical perishables and impending expiry dates on valuable products. ML-driven ERP software can highlight and locate a product lot and pick an order that is fresh and viable over products with a longer shelf life. Warehouse managers find more and more uses for AI and ML when it comes to comparisons of shipping carriers, cost-effective deals, lead times and seasonal trends.
5) Robotics and Carousels
Automated systems using robots and cloud ERP software transport warehouse inventory, streamline and automate warehouse processes and perform various repetitive or cumbersome tasks. This allows warehouse personnel to be less rushed and more flexible to successfully fulfill orders. There are many benefits when warehouses use automated carousels for storage and retrieval. A series of shelving units can rotate along on a track, enabling goods to be picked and moved from one area to another. Initially, the carousels are not inexpensive, but over the long haul they reduce picking errors and save company's significant time, especially when the clock is running to get items packed and shipped.
6) WMS Systems
Warehouse Management Software as a standalone solution focuses on overseeing and controlling warehouse activities. It automates systems and manages daily warehouse and distribution center operations. A WMS platform manages various warehouse technologies, including RFID, barcoding, robotics, voice and carousels. WMS-specific advanced feature applications go beyond the offerings of ERP for small and midmarket companies.
The best WMS for large distribution centers integrate systems that provide automated warehouse functionality and data accessibility. They do not require major customization because all of the necessary features are built into the software. WMS applications include inventory collection and storage.
7) ERP Software
ERP software, especially modern cloud-based editions, provides an all-in-one offering that helps users manage the flow of information among all departments and staff. ERP can include automated inventory replenishment and other WMS features such as OCR, barcode processing and RFID scanning. A cloud ERP's WMS module then easily integrates with other operating software, such as order management, accounting, field service management and beyond.
Planning a Modern Warehouse? Get the Playbook
Building a modern warehouse is not just a way to get ahead – it is now a matter of survival. So if you are still running an entry-level accounting or legacy distribution ERP system, it is time to upgrade. Get an overview of what to look for in your new distribution ERP system in our playbook: Prepare for the Warehouse of the Future With Acumatica Distribution Edition.
Modernize Your Warehouse Activities With The Donas Group
Businesses need to examine their needs along with warehouse and distribution automation processes to determine whether they need standalone WMS or an ERP solution. Now is the time to think about it, however, because over 50% of distribution centers continue to operate manually.
To learn more about modernizing your warehouse operations, contact us or watch a demo of Acumatica Distribution Edition and its warehouse management capabilities.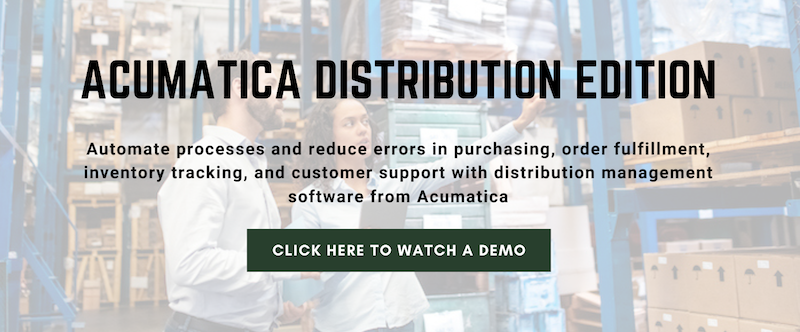 Additional Distribution Resources
6 Benefits of Automating Your Procure-to-Pay Processes
2021 Distribution Industry Trends and How Cloud ERP Can Help