Cash flow, always critical but never easy to manage, has grown even more challenging in the last year. As COVID has upended supply chains, many of the people responsible for Accounts Payable (AP) are no longer working in the same office. Confusion may prevail as old ways of doing things, including spreadsheets, manual processes and paper records, have made the situation untenable at many organizations. New AP solutions, available in modern, cloud-based Enterprise Resource Planning (ERP) suites like Acumatica, promise to ease the pain with automation and other advanced AP features.
What's hurting your AP and cash flow?
AP is not an end unto itself. Rather, it's part of cash flow management—and with that, it comprises an important element of financial strategy overall. Unfortunately, AP can inhibit effective cash flow. If the AP process is inefficient, it can also act as a drag on resources. AP challenges include:
Slow processing
Matching errors
Missing invoices
Fraud and theft
Paying invoices without confirmation of delivery and quality control (QC)
Double payments
Exception invoicing
Manual follow-up
Unauthorized purchases
If your AP team is stymied by these issues, your cash flow management will suffer. For instance, when AP cannot keep up with timely approval of invoices and payments, the interruption can cause a cascade of falling behind. Shipments may end up delayed and late-payment fees imposed. Stumbling over your spreadsheets, emails and post-it notes hold you back and may affect your business' credit rating.
Addressing AP challenges with innovative software
The good news is that software can help you address these various challenges. Acumatica Accounts Payable helps, offering close control over liabilities and payments. The software enables easy monitoring of cash flow. It tracks all outstanding invoice payments, along with available discounts, cash requirements and due dates. For example, while it may be tempting to take an early payment discount on an invoice, if managers in Finance have determined that now is the time to build cash reserves, the software can stop the AP team from taking the discount and depleting cash.
The importance of AP automation
Automation can be transformative in AP. Acumatica AP monitors and manages internal communications and data with automated workflows. The software organizes every aspect of the business that affects AP, including contracts, sales, invoicing, payments and banking details. The AP team, whether on-premises or working off-site, manages data in real-time to record invoices and match them with purchase orders and products or services received. Invoices, payment scheduling and any necessary approvals from management are all part of the automation.
Acumatica AP is also able to connect with other systems in the business, as well as with Acumatica modules. Warehouse management software, for instance, may bear directly on AP workflows. With Acumatica, all connected systems work from the same data. The system alerts each department to its necessary contribution and scheduling of responsibilities and requirements. Finance and Operations monitor the data flow, with missing pieces flagged and addressed in a timely and efficient manner before anything can go wrong.
Carpe diem
Now is a great time to "seize the day" and take AP to the next level. Your cash flow will improve, together with the productivity of your AP team. We have helped many businesses adopt new AP practices, as powered by Acumatica.
Flexible, powerful, and born in the cloud, Acumatica Financial Management delivers this functionality—providing the scope you need whether you are a small shop or a multinational firm. As a leading provider of this solution, Donas Group has the skills to customize, integrate, and deliver this solution for companies like you. Contact us today to learn more or watch our Acumatica Demo.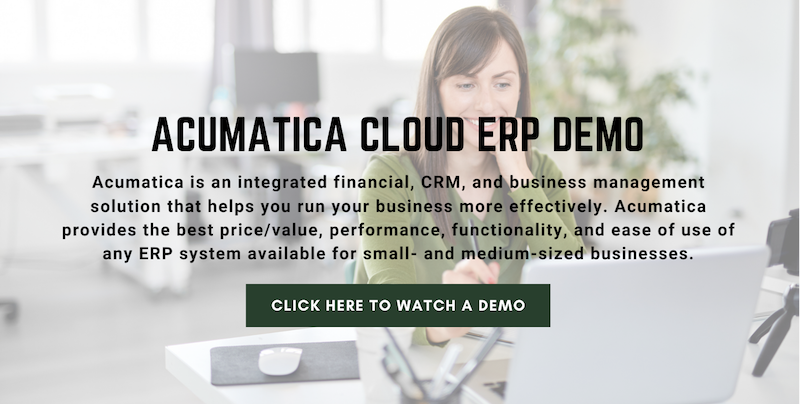 Additional Financial Management Resources
Accounts Receivable: Top Challenges and How to Solve Them
The General Ledger: A Company's Big Book of Everything