Nucleus Research a respected global advisory and research services provider, sought industry peer opinions and experiential client reviews for Customer Relationship Management (CRM) solutions in 2021. The result was their "2021 CRM Technology Value Matrix" report. Acumatica's CRM software was recognized in the report as a leader in usability and one of only three CRM cloud solutions in the "Facilitator" quadrant.
The Nucleus CRM Technology Value Matrix evaluated details pertaining to what makes one CRM vendor stand out above the others. It determined that a high-performance, successful CRM platform leverages analytics of company data to enable strategic decisions. This proved especially relevant this past year during the Covid-19 pandemic. Acumatica demonstrated excellence and core competencies in being able to navigate business during 2020-2021 and be flexible enough to adjust to pressing changes and commerce issues.
The Value Matrix featured evaluations of CRM solutions based on usability and functionality that were gleaned from customer or user surveys, a return on investment (ROI) assessment from Nucleus and vendor input. Nucleus evaluated whether a CRM could make a significant difference and have an impact on ROI. The data led to describing the strengths of these companies in the four quadrants, which are labeled "Facilitator, Expert, Core Provider and Leader," all based on usability and functionality scores.
Nucleus assigned Acumatica the Facilitator ranking based on its focus on offering the best possible CRM cloud platform to disrupt the mainstream and make usability easy and intuitive. Acumatica's CRM scored higher in the usability space over the Oracle CX Cloud and twelve other vendors assessed by Nucleus.
The Value Matrix highlighted usability and functionality based on the best software available to manage:
Leads and Opportunities
Contacts
Customer Accounts
Efficiency and/or proof of concept
The CRM space is highly competitive, dominated by several large vendors. For Acumatica to stand out in the field says a great deal about the company's emphasis on user experience. Further to this point, one of Acumatica's selling points relates to how it melds CRM with other elements of an overall cloud Enterprise Resource Management (ERP) solution. Acumatica's CRM cloud solution is an essential, integral part of Acumatica's cloud ERP. The combined solution helps companies provide a system to streamline the management of customer accounts throughout the sales cycle.
Analysts from Nucleus were impressed with the agile Acumatica 2020 R1 release. In this release, Acumatica has improved point-of-sale and better electronic bank and credit card transaction feeds. Because of advancements in Artificial Intelligence (AI) and machine learning overall expense management is so much easier to navigate with its built-in, intuitive process. The best CRM offers AI and learning applications such as integration of analytics, ERP/CRM functionality and the ability for remote management.
Nucleus also acknowledged Acumatica's integration with Microsoft Outlook and its integrated content management. These features improve user experience and drive increased productivity. The solution's side panels and dashboards enable efficient sales pipeline and funnel management. This also caught the attention of the Nucleus analysts, as did Acumatica's rich reporting capabilities.
Download the full report to learn more: CRM Technology Value Matrix 2021.
To learn more about Acumatica CRM, contact us for a demo and discussion about how the solution can improve your sales and marketing processes. Or watch our on-demand Acumatica CRM demo.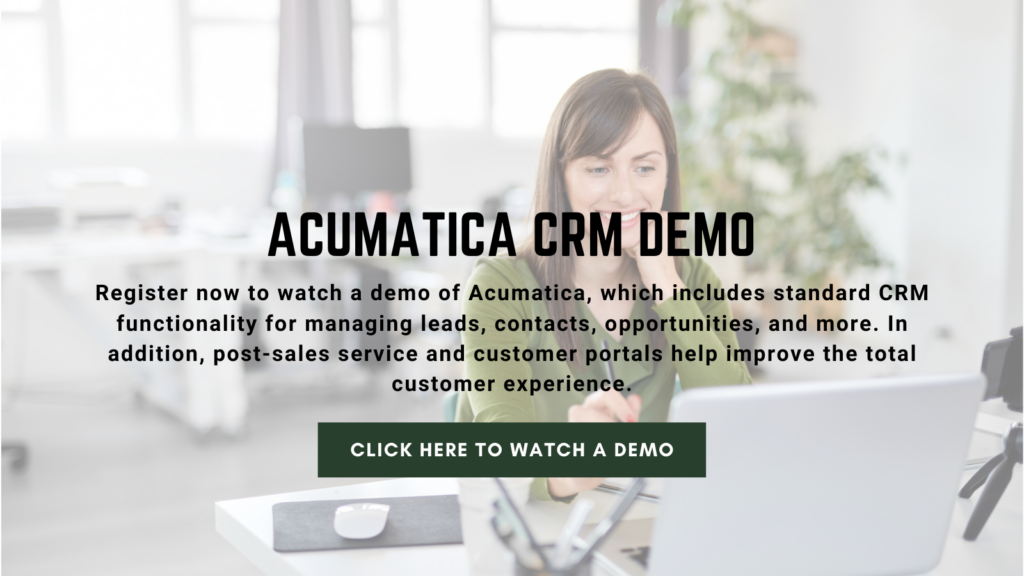 Additional CRM Resources
CRM vs. ERP: What's the Difference?
Top Benefits of CRM For Your Business